Running a marathon, going the distance, taking up the gauntlet, in short accepting a challenge and following through with it. Many experiences in life need you to go the distance, to invest time in it and persevere in order to get results at the end. I decided to take up such a challenge, I decided to achieve it and was ready to see it to the end. I decided to run a marathon!
The first question that naturally pops into anyone's head is this — WHY? Why does the CEO of a start-up, a busy man as it seems, working seven days a week would have to take up such a challenge? What rewards are a full time working entrepreneur looking for by committing to months of training, both physical and mental? On a superficial level, there may seem some benefits such as health advantages and overall emotional well-being. But now it's time to scale the entire iceberg! Why run a marathon, read on to find out.
"There's something incredibly freeing about being able to just run and reach a destination under your own steam, carrying your own water and nutrition, feeling like you could go on forever."
-Alex Parren (HuffPost)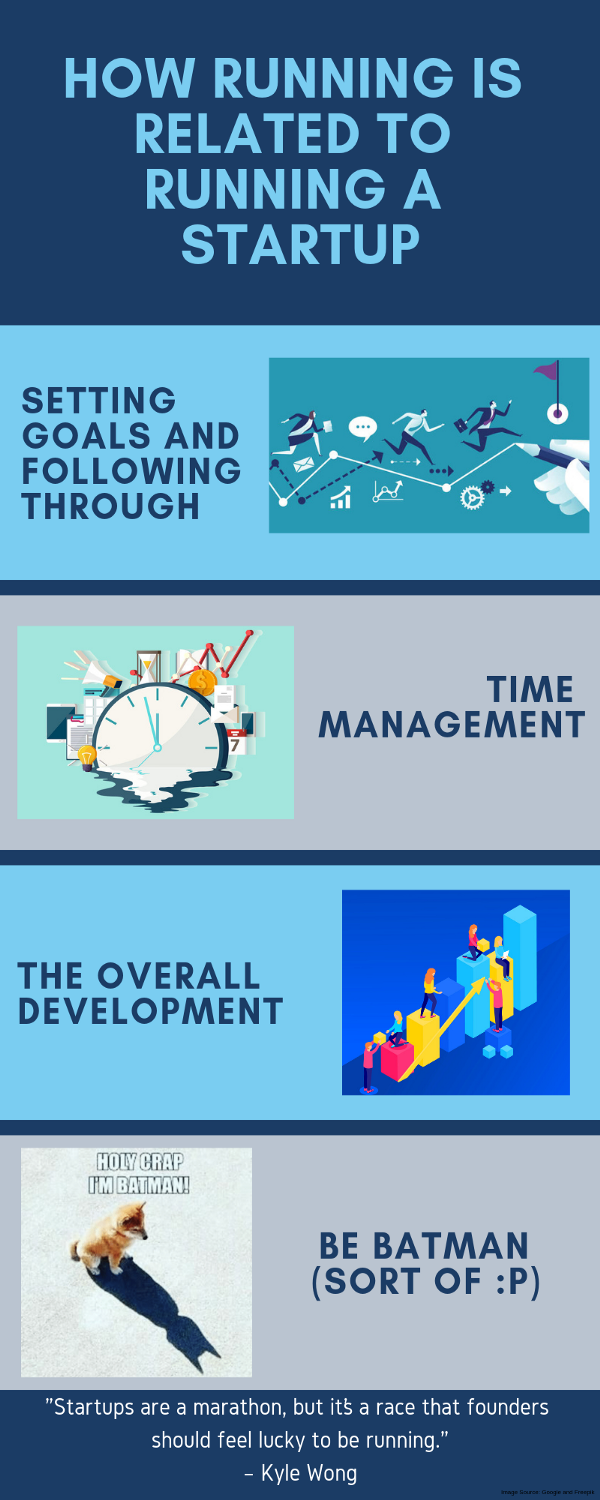 Beginning with the general physical benefits that a runner experiences include a full body workout along with the burning of a ton of calories, there is also emotional well-being that is felt throughout the training period. The training and the practice is the real marathon there is, and you will notice that the span of time really does transform you. From couch potato to an agile and lean runner, it is something you will start admiring about yourself and strive harder to stay that way all the time.
As said earlier, the journey, the process, all that lead up to the day of the marathon, is the real task. That is the real marathon you have to conquer. Getting up and training continuously for months is not an easy undertaking. But as the days progress and you notice yourself changing bit by bit, obviously for the better, it isn't possible to stop training. You will want it more than ever and keep looking forward to it. It is a truly inspiring feeling of setting a goal for yourself and then going all guns blazing to achieve it. Investing in a set goal and following through with it tirelessly helps define your own character. It builds confidence in you that nothing is impossible. It gives you an incredible boost in all other domains of your life to just go and get it! You develop a kind of mental toughness that gives you enough energy to tackle any problem head-on.
I am a CEO myself and running a startup comes along with a large number of working hours that mostly span the entire seven days of the week. Cramming a training schedule along with it was a bit difficult, but it taught me to manage my time well and engage in effectively utilizing it. Like when you have to squeeze in time, you start prioritizing. You get a chance to remove things out from your schedule that does not matter anymore.
Maintaining a passion or a hobby with your full-time work calendar is hard, but in a way, one complements the other. You follow your passion with all heart; you'll see productivity increasing everywhere. After a few weeks, I started feeling like Batman — a billionaire businessman in daylight and a criminal thrashing vigilante at night.
And once you have gone all in to win at something, to succeed at your extra-curricular ventures, there will be a different you showing up at the office. One success is enough to raise your own bar in life. You ponder over the possibilities of achieving something even more significant in life, taking on even harder challenges. There is this insatiable hunger that you develop to go beyond all limits. You involuntarily take out all stops to get to your ultimate destination.
"While running, your brain gives up way before your body does."
(yourpositiveattitude.com)
The journey develops you a lot, but the day of the race is something else altogether! It is the ultimate test of your mental strength, more so than your physical one. It is time for you to showcase all your training. During the race, you realize that the human body is capable of much more than our preconceived notions. We are amazingly capable of recovering, enduring and progressing in almost any aspect. This is a realization only a marathon runner can fully realize and appreciate.
Once you finish the marathon, the euphoria, the high that you experience, nothing else can possibly provide. It's the incredible satisfaction of finishing that not only motivates you to do it again but also makes you obsessed to always finish the task at hand and see it to its ultimate completion. I personally saw myself as a different person walking out of that marathon. Your self-respect soars, there's a new identity that you now have, and now you basically become Batman! Nobody can touch you.
Although coming from the point of view of an entrepreneur, people from all walks of life need to experience the sheer joy of completing a marathon at least. With so much to learn about yourself and life in general, completing a marathon is truly attaining nirvana!